The Denver Health and Hospital Authority built its long-planned outpatient facility, including its largest parking structure. The health system, which treated about 200,000 unique patients in 2017 and brought in revenue of $1 billion, submitted a site development plan to the City of Denver to replace the existing ancillary structures with the seven-story garage.
Two park-on ramps were designed in a scissor configuration in order to expedite circulation through the structure. Two separate entry and exit locations provide six access lanes, one of which is reversible.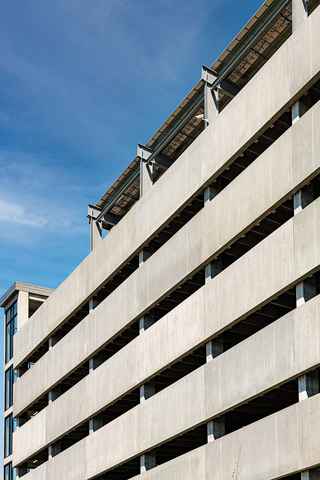 Net-Positive design.
Taking advantage of the high potential for solar power in Colorado, the structure integrates a photovoltaic array capable of achieving Net-Positive energy. With approximately 300 days of the year, the PV array generates enough power to not only operate the parking structure, but also create a surplus that is fed back into the City of Denver's energy grid.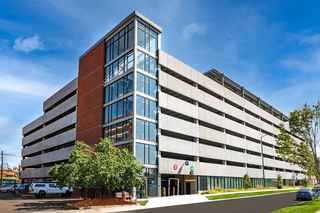 Wells was selected as a Design Build partner for the new garage which supports the new 300,000-sq ft Outpatient Medical Center. The parking structure provides 1,266 stalls on 8 levels and features 2,500 sq ft of commercial / retail space at the ground level. Because the garage serves employees, special consideration was given to accommodating peak throughput times during shift changes.
Wells provided more than 430,000 sq ft of prefabricated building components for this net-positive parking structure. The architectural panels near the stairs/elevator core showcase a thin brick finish. The horizontal lite walls include a galvanized, integral mesh that provides fall protection at the parking structure ramps, which also reduces trade coordination. In addition, Wells designed the roof to accommodate a photovoltaic array and to allow for future parking structure expansion to the south. In anticipation of snowy Colorado winters, each end of the structure is designed to accommodate additional loading for snow storage.