The city of Rochester wanted a higher level of architectural finishes on their new 640 car parking ramp. They challenged the designers to explore for something different than traditional architectural precast concrete that is on many of the city's parking ramps. In the end, the designers selected a terra-cotta clay tile exterior veneer on an architectural precast concrete panel.
Wells produced and erected all the precast, including some unique arch pieces. The top arch sits on a bottom arch on each side. There are two complete arches, going over a railroad track that goes under the ramp, with a sandblast finish. In addition to the arched pieces, Wells also provided architectural wall panels with beautiful cornices and terra-cotta accents.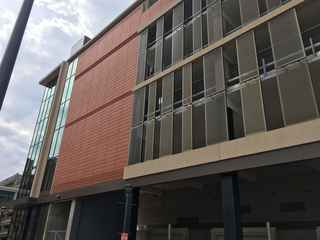 Terra-cotta is a type of ceramic tile made from red and brown clays unique to the quarry location. The raw clay material is shaped into the desired clay tile sizes and then is allowed to dry, then fired in a kiln. Firing the clay tiles makes it hard and durable. The tile can then be glazed or left untreated in its natural state. Terra-cotta tiles are a lovely mixture of reds, browns and natural earth tones, which can create swooping clouds of color with subdued changes on surface of every clay tile.
The clay tiles arrived at the Wells' manufacturing facility from Germany with each tile individually marked for placement into the casting beds. The tiles were set into the casting beds with corresponding tile mark numbers related to each precast wall panel. Wells' engineering department worked closely with the tile supplier to assure every tile was accounted for and manufactured to the exact size to fit perfectly into the architectural panels. To adhere the tiles to the panels, the backs of the tiles have dove tailed slots that mechanically bond the tile to the precast concrete.