An enhanced community hub.
District 1860 is mixed-use development nestled in the downtown area of Lincolnwood, IL. The jobsite was an empty site that was originally home to the abandoned eyesore that was the Purple Hotel and had been demoed in 2013. The ambitious endeavor aimed to revitalize the landscape with a contemporary multi-use campus that offers a vibrant mix of retail, residential and recreational spaces.
The first of two buildings offer ground-level retail, two levels of parking with 500 spaces, and 300 apartments on the floors above. The amenity level within the mixed-use building features an array of recreational facilities, including a pool, lounge area, bocce ball court and a putting green.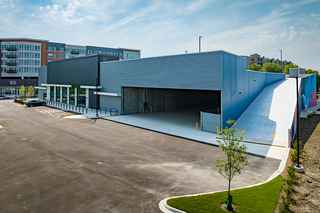 The second building is a 100% prefabricated structure built to house a nationwide grocery store chain. The building features a unique design and serves various purposes. The first level of the building is dedicated to the grocery store. On the second level, there is a parking area constructed using prefabricated double tees. To access the roof parking, a precast speed ramp was used. The architectural cladding on the exterior utilizes thin brick. The combination of structural and architectural in the design demonstrates the efficiency and versatility of prefabrication.
The mixed-use building utilizes a prefabricated podium design spanning two floors with five levels of stick-built construction above. The podium framing begins at the ground level, with the second floor of parking supported by double tees and reinforced by beams and columns on the first floor. Spandrels adorn the perimeter, providing support for the double tees, concealed beneath a veneer of masonry.
The prefabricated building solutions were manufactured off-site and quickly installed, supporting faster speed of construction and cost savings for the project. The project team opted for prefabricated solutions, leveraging the time and cost advantages to bring the development to life swiftly and economically. Prefabricated podiums offer an additional advantage by providing a natural fire barrier between the stick-built structure above and the parking area below. This inherent fire resistance eliminates the need for additional treatment and ensures compliance with safety regulations.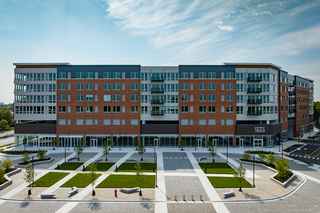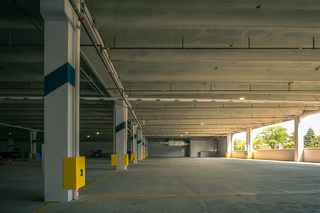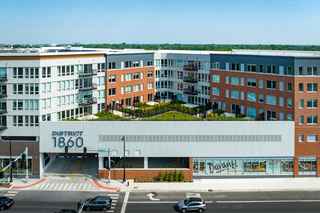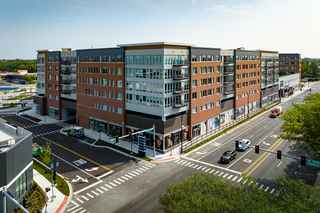 Since District 1860 utilized a variety of building solutions, a phased construction approach was used to continue work and avoid delays. The general contractor proceeded with construction in parts where the precast elements were ready. While Wells continued to work on subsequent sections, the contractor simultaneously poured concrete atop completed phases and constructed the apartments above. This synchronized effort enabled the project to progress swiftly, with the apartments taking shape alongside the podium installation.
District 1860 serves as a testament to the power of podium design and prefabrication construction methods in delivering modern, functional structures within urban landscapes, and is poised to become a vibrant hub where residents can live, shop, and relax amidst the dynamic energy of the surrounding cityscape.