A dedicated community partner.
Swedish Medical Center and its campus serve a steady and growing patient base, providing spiritual, emotional, and physical healthcare to the community of Denver's south metro area. The hospital has been a proud member of the community for more than a century and is now able to accommodate the growing needs of the more than 200,000 annual patients they serve with a new precast parking structure.
This 825-stall, 810 precast concrete piece garage was completed nearly two weeks ahead of schedule. The use of precast concrete shortened the on-site construction work and provides flexibility for a future addition when needed. Gray acid-etched spandrels combined with cast-in CMU and thin brick provide a pleasing aesthetic that complements the Swedish Medical Center campus and the traditional aesthetic of the community's longest support system.
This project was featured in the PCI ASCENT Summer 2022 edition article titled "Just What the Doctor Ordered" - read now.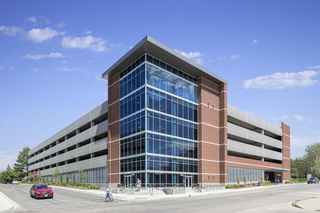 We set the highest standards for ourselves and our services. Through transformation and innovation, we strive to improve the health and quality of life in our communities. We commit to compassionate and reliable practices for the care of all.