The International Brotherhood of Electrical Workers (IBEW) Local 9 Chapter in University Park, IL had a vision to design a building to support their outdoor electrical labor union testing and training needs. The design team required a structure with expansive ceiling height to support large electrical equipment, boom trucks, cranes and electrical light poles.
Meeting IBEW's design requirements while maintaining architectural integrity began a specialized design and erection endeavor. To create a structure that fit the sky-high equipment testing and training needs, Wells' team of designers engineered and prefabricated architectural wall panels more than 20 feet higher than the industry average. The final structure stood over 64 ft tall meeting height and load bearing requirements, eliminating the need for an additional steel structure that would have increased cost and construction time. The design also features a unique façade, utilizing architectural wall panels incorporating a custom grid pattern.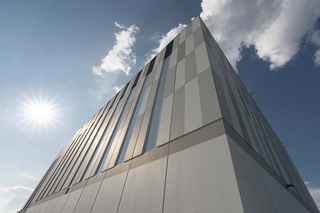 During preconstruction, the erection crew identified transportation concerns and worked with the local construction teams to widened the roads to fit moving in and out of the lot. Utilizing problem solving and knowledge gained in the field, the Wells team used gravel pads to create the space needed for rigging and rotating the panels to be set in place.
The new IBEW training building is an expansive structure that has the capacity to fit the union's test and housing needs with a final building solution that saved time and costs while adding aesthetic interest.