A growing dairy cooperative.
First District Association (FDA) is a dairy cooperative and manufacturer of dairy products. Over the past decade, Wells has assisted in eight large expansion projects for the Litchfield, MN, based company – including a milk receiving addition (2020), a lactose dryer tower (2019), a cheese and cooler addition (2019), and a large general plant expansion (2017).
Wells provided a wide variety of structural and architectural building solutions supporting FDA's construction of a total precast solution. Double tees, beams, columns, flat slabs and wall panels have been utilized in every area of the dairy facility. The cooler/freezer addition of the facility was created using prefabricated panel walls – the airtight concrete envelope was used as a cost-effective alternative to a more expensive insulated metal panel freezer.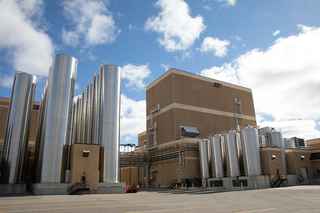 Flexibility for the future.
Along with Excel Engineering and Strack Construction, Wells supports FDA in a design-build/design-assist capacity for their total precast food processing buildings; the same partners have been used on every project over the years given the consistent high-quality project outcomes. For every addition done on the ever-growing facility, future expansion is taken into consideration during the design. In some areas, portions of the exterior wall were finished smooth (unlike the exposed aggregate raking finish found on the general exterior), since the master plan had these walls eventually targeted as interior walls during future expansions – with the team continuously looking ahead and designing in flexibility for FDA's future success.
This project was featured in the PCI ASCENT Winter 2023 edition - read now.