A leading manufacturer of quick connection couplings, Colder Products Company (CPC) needed a new corporate headquarters, to meet increasing demand for their products that support the pharmaceutical, liquid cooling, food and beverage markets
CPC's new facility in Roseville, MN consolidates production and employees from three locations into one. The location in Roseville, dubbed one of the best places to live in Minnesota, was selected to attract young professionals and bolster employee retention.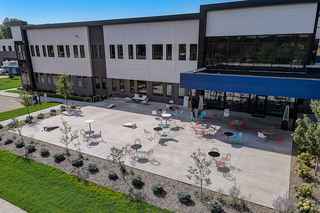 Proponents of lean manufacturing practices in their own work, CPC looked to Wells prefabricated building solutions to maximize efficiency during construction. While the relocation was complicated by the COVID-19 pandemic, schedule milestones were met through each phase.
Wells began the installation of the exterior façade and within a few short weeks the trades began the fit-out of the interior with specialized equipment.
The architectural insulated precast concrete wall panels incorporate three disparate yet complementary finishes. Acid etch, sandblast and exposed aggregate finishes were often combined within the same panel. Separated by reveals and offset to add aesthetic interest and avoid flat façade, the resulting pattern reflects the modern CPC corporate image.
Insulation within the precast concrete walls exceeds the minimum code requirements for energy efficiency. They also provide smooth clean surfaces in the sterile spaces. Hard shell interiors can withstand the rigors of the production area and dry wall softens the office spaces.
The corporate headquarters features a bold entrance lobby, central breakroom, patio, fitness center as well as window walls that offer future customers a peek behind the scenes of their automated manufacturing line.
The Wells team collaborated to accelerate design development and offered suggestions to accommodate the complex programming and configurations for future growth. The 132,000 sq ft structure includes 60,000 sq ft of office space on two stories, a cleanroom and laboratory.