Champions are built here.
Completed in the summer of 2018, the Fiserv Forum in Milwaukee is the home to the Milwaukee Bucks and Marquette Golden Eagles, replacing the Bradley Center, which opened in 1988.
Proud to be the hub where the Milwaukee Bucks became World Champions in the Summer of 2021, the Fiserv Forum provides a game changing feeling for its community. Not only is this a place for entertainment, but it unites its community - everyone is there with a common goal: enjoy whichever activity they are taking place in at the Fiserv Forum.
Wells is proud to have been a partner in building this state-of-the-art landmark.
Rise up to be the greatest.
Five-hundred and thirty-four Wells precast risers fill the arena, providing a seating capacity of 17,500 for basketball games. In any entertainment complex, precast stairs and risers.
To ensure safety and code requirements were met, the project team needed to customize the precast forms to allow for specific sized stairs and risers. Given the unique ability to be sized specifically to the structures tolerances, precast was the ideal building solution.
Additionally, precast was chosen because it surpasses safety standards thanks to its durability, as well as resistance to pests and elements such as humidity, corrosive materials and direct impact.

The project required some very tight tolerances to meet code and we therefore had to customize the forms to meet the requirements.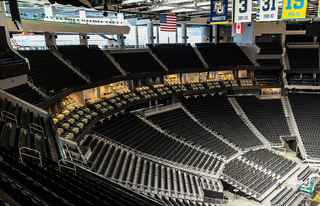 From the beginning, a strict schedule was in place by the Owner and General Contractor, and it was paramount all deadlines were met on time. Enter precast for its ability of just in time delivery, at a rapid speed. Both the Owner and General Contractor sought out precast for its enhanced capability to be a key player in the game.
Building with precast allowed for shortened installation times as the risers were cast at our Wisconsin plant and delivered to the site ready for placement. Over the course of 94 days, our team delivered 595 loads of product (risers, wall panels, beams and columns) and installed 753 pieces of precast.