The new Hyatt Regency Bloomington Central Station hotel was just one in a series of transit-oriented projects located at a 50-acre mixed-use redevelopment site on the METRO Blue (Hiawatha) Line in Bloomington, MN. This Hyatt Regency hotel is 8-stories and 303-rooms featuring 17,000 sq ft of meeting and pre-function space, with an 8,250 sq ft ballroom, three-meal restaurant, bar and lounge, indoor pool, fitness center, coffee shop and business center.
Enclosure systems were used on the façades to create a unified vision that would meet the client's cost, schedule and durability requirements. The final building features a white, acid-etched precast concrete façade that matches the hotel.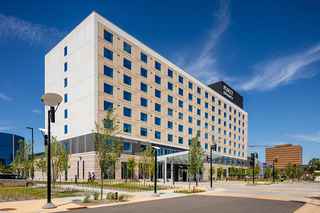 Hyatt Regency Bloomington Central Station is a key part of the city's vision for the Bloomington South Loop District. Bloomington Central Station is a wonderful model for the potential of transit-oriented development, and we're proud to be the site of such a unique redevelopment effort.