Green Bay Packaging produces corrugated shipping containers, folding cartons and coated label products and is headquartered in Green Bay, WI. Wells has a long-standing history with Green Bay Products and has supplied prefabricated building solutions to many additions over the past decade as the company has expanded.
The most recent project involved Wells for the installation of architectural insulated wall panels for a 160,000 sq ft addition to expand their manufacturing capabilities. This expansion involved the addition of coated product manufacturing facilities to their existing infrastructure. The panels were expertly designed to match the existing building's aesthetics seamlessly. Prefabrication offered several advantages for this project. First, it enabled rapid construction, adhering to the aggressive project schedule. It also allowed the interior panels to be left exposed with a painted finish, meeting the project's requirements without requiring any specialized treatment.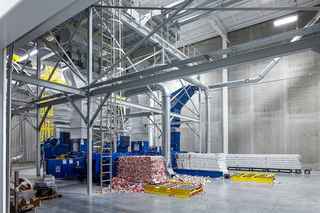 One challenge in this project was the need to remove and reuse certain wall panels from existing parts of the building. While this added complexity to the field installation process, it was a sustainable and efficient solution. Typically, in modern construction, walls are demolished, but in this case, reusing panels was a more environmentally friendly approach. Though not all panels could be reused, efforts were made to maximize their reuse wherever feasible.
The seamless integration of architectural insulated wall panels, efficient construction practices, and a commitment to sustainability and adaptability exemplifies Wells' expertise in delivering innovative and tailored solutions.