Connecting modern day luxury with historic appeal.
A Midwest developer acquired a 1915 old paint manufacturing facility and dreamt of a development that connects modern day luxury with historic appeal. Redeveloping the structure into a usable and safe hotel development took passion and careful planning, as it resides on one of the busiest streets in Madison, WI. The $19 million hotel includes five stories of hotel space, meeting and convention areas, as well as a trendy community restaurant.
Unique to the project is that the original paint manufacturing facility needed to be converted, but also expanded. New needed to seamlessly merge with the old. This meant the expanded structure needed to have a low profile so that new floor elevations matched those that were existing, and that guests wouldn't see or feel the difference. Floors also needed to be thin in order to minimize obstructions for mechanical, plumbing and electrical needs.
While the interior had many functional requirements, it was also important that, along with the exterior, that it had extensive detailed aesthetics to best match the expansion to the existing warehouse facility. The contemporary brick design provides a distinctive and striking color tone to incorporate the heritage of this historic art building while displaying a visual appeal to occupants on both the exterior and interior.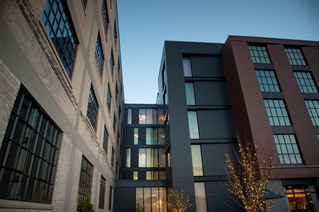 The best part was the collaboration on a vision that I had. I knew all the details were taken care of and my building dream was coming true.
Delivering excellence on budget and on time.
To convert a monumental, historic warehouse into a modern boutique hotel required alignment and agreement on costs and project schedule from the start. The precast schedule included 293 pieces and was completed in 27 days. The team built the entire structure virtually first to ensure cost, schedule and design plans were agreed upon and able to be executed to everyone's agreement. Throughout the process of this project, the main goal was to assure the new would blend with the old – appreciating the past while accommodating the future.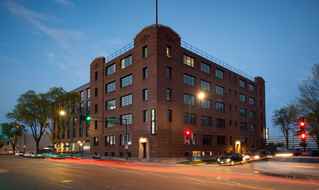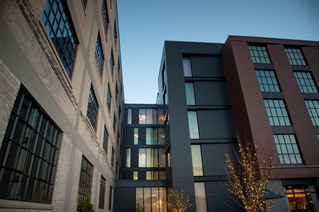 Concern of guest privacy and desire for a quiet environment was vital to project success.
The design started by creating a wide sweeping space on the first floor to serve as the lobby and restaurant space.  Bearing walls were used as horizontal beams to support the hollowcore plank used as ceiling and flooring components. This approach required minimal columns to create more open space. It was carried into the guest room area, where insulated precast wall panels were used as partitions between every two rooms.