Home of the Minnesota Golden Gophers, Huntington Bank Stadium is a more than 50,000-seat stadium located on the campus of the University of Minnesota in Minneapolis. The stadium was the first – of both collegiate and professional – to achieve LEED certification in 2009.
Wells provided the lower and upper bowl's risers, stairs and vomitory walls – using over 4,000 prefabricated stadia pieces. Because of the stadium's size, the lower bowl was total precast, including risers, stairs, vomitory walls and prefabricated field walls. The total precast construction allowed the crane to sit atop the lower bowl to reach the upper bowl's stadia installation.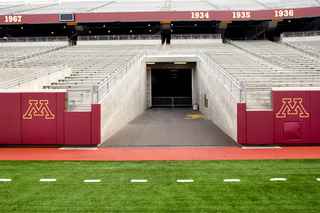 The stadia pieces were poured upside down in formliners that simulated a broom finish. This gives each piece a consistent finish on the walking surface, making sure there is enough traction for stadium guests without causing too deep of grooves that cleaning would become an issue. Utilizing innovative manufacturing techniques, since the risers were poured upside down, the Wells team lifted the pieces with a vacuum lift. The vacuum lift could take the pieces directly out of the forms, rotate them 180 degrees, and place on top of the structural supports – all without the expensive need to use stripping and installation inserts, which would have had to been patched on every one of the 4,053 pieces.
The top bowl's structural system is made of steel, which caused deflection in the framing during riser installation. The Wells field erection crew started on the lowest part of the frame and worked their way up the bowl's framing system, taking into account the movement that every piece triggered to successfully finish installation. The final LEED-certified stadium is a landmark the community is proud of.