Modernizing a community.
A monumental milestone for the Denver-based Montbello community, was the re-opening of the Montbello High School. To support the future use, the district was looking to modernize and enhance the over 40-year-old outdated facilities to better serve the educational needs of the students and the community. The solution was a remodeling and addition, including new classroom wings, a gymnasium and administration buildings.
Distinctive architectural prefabricated walls were used for the new construction's exterior, featuring a combination of acid-etched finishes, utilizing two different formliner patterns, along with the incorporation of thin brick accents. The formliner pattern on the exterior support the illusion of larger windows from the outside, with spandrel glass strategically used to enhance the effect, further contributing to the aesthetic appeal of the building. All architectural walls are insulated, with a hard trowel finish, resulting in a cost-effective and durable solution for the interior surfaces. This practice not only saved on additional finishing costs but also contributed to improved energy efficiency within the building. Load-bearing perimeter wall panels were engineered to support the steel structure of various spaces, showcasing a seamless fusion of form and function.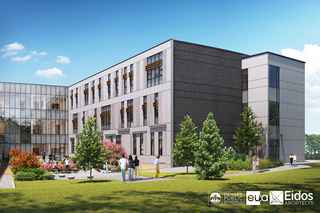 The decision to use prefabrication offered several significant advantages for the project. Foremost, prefabrication was a more economical solution than traditional building methods. Moreover, the speed of construction played a pivotal role in meeting project timelines, especially given the challenge of working around the school's academic calendar.
Working within an active school environment presented a notable challenge. To address this, prefabrication proved instrumental, allowing construction to progress efficiently while minimizing disruptions to the students' educational experience during classes. Additionally, the project's location within a busy residential neighborhood demanded careful consideration. The design team prioritized durability and community sensitivity, ensuring that the new and remodeled structures would stand as a resilient asset for the neighborhood.
Collaboration for success.
One of the standout qualities of the Montbello High School project was the exceptional level of collaboration between the project building partners. This collaborative spirit ensured that the project's design vision was translated into reality while adhering to budgetary and scheduling requirements. The successful execution of the project in an active school environment underscored the advantages of utilizing prefabrication for a seamless and efficient construction process.