Silver Creek High School added a natatorium to their existing campus, and Wells provided the prefabricated concrete to construct the addition. The 9,000 sq ft pool area contains an eight-lane competition pool and a diving area with two boards – enough room to host regional and state competitions.
Navigating a tight job site located between an existing building and the athletic field, Wells prefabricated building solutions were an ideal choice to minimize site impact. Working around the hole for the pool, there was limited room within the construction footprint for cranes or scaffolding. The use of double tees allowed seamless erection within these constraints.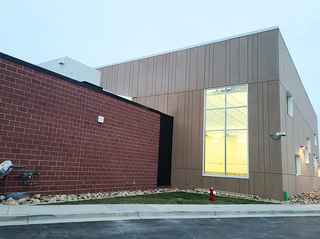 The exterior of the natatorium features random reveal patterns that provide visual interest and texture. To prevent the patterns from being too uniform, three separate patterns were created and then flipped randomly throughout the design to create six unique layouts. The ceiling of the structure utilizes double tees with baffles hanging amongst them for sound attenuation. The interior walls are painted concrete, which makes for a low-cost and durable finish that can withstand the humid environment of the pool area.
The final result is a structurally sound, competitive level natatorium that the community is proud to have as their own.