Nestled near the foothills of the Rocky Mountains and Boulder, Peak to Peak Charter School in Lafayette, CO, is a K12 public charter school that exemplifies educational excellence. By offering a challenging curriculum within a picturesque setting, the school empowers students to strive for their highest potential. The integration of the educational approach with the architectural setting has resulted in a facility that not only supports academic growth but also serves as a source of inspiration for students, staff, and the broader community.
To support a gymnasium expansion, Wells provided the load bearing, insulated prefabricated walls, which were erected in a remarkable timeframe of under a week. The exterior facade showcases a captivating design, featuring a base of precast concrete masonry face shells, crowned by a natural cedar board formliner finish. This fusion of materials creates a visually appealing and durable exterior that harmonizes with the school's surroundings.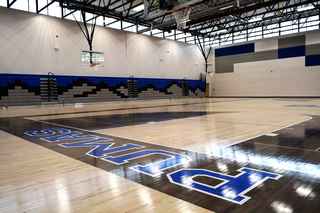 Inside the gymnasium, exposed prefabricated surfaces were meticulously crafted with a hard trowel finish. This design choice not only ensures durability but also contributes to the gym's aesthetic appeal. The interior surfaces, finished with a soft paint that reflects the abundant natural light streaming through the continuous clerestory windows, create an atmosphere of openness and energy. The result is a space that seamlessly blends functionality and beauty, fostering an environment conducive to physical activity and collaboration.