Seamlessly blending into the natural surroundings.
The new parking deck at Innovation Park in Wauwatosa, WI, is a 2-story, 633-stall total precast structure that seamlessly integrates modern architectural design with sustainable features. The parking deck was developed by real estate firm, Irgens, coinciding with the relocation of their corporate offices to the expanding business park. The parking structure will serve Irgens and a series of buildings planned for the area in the next few years.
The parking deck has a substantial footprint, spanning 85,000 sq ft on each floor for a total of 170,000 sq ft of parking. The design originally incorporated structural steel for the roof, but it was converted to prefabrication due to its numerous advantages in terms of cost, durability and ease of installation.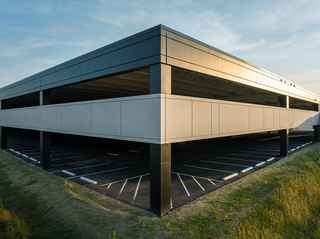 The structure's architectural aesthetic utilizes a combination of architectural prefabricated finishes and painted elements. The architectural finish showcases a white cement with a light gray pigment, finished in acid etch.
To meet sustainability goals for the project, the parking deck is topped with a green roof system and includes solar panels that power the garage. Additionally, the developer plans to achieve LEED certification for sustainable construction work.
The parking deck at Innovation Park exemplifies the successful integration of efficient construction practices, sustainable design and forward-thinking initiative. By using prefabrication and incorporating a green roof powered by solar panels, the business park has demonstrated its commitment to creating long-lasting innovative and environmentally conscious developments. The project serves as an inspiring example for prospective clients looking to establish their presence in a thriving business district while promoting sustainability and embracing modern design principles.