Wells supported the design of the integrated parking structure to support Concordia University Wisconsin's new stadium. Getting involved early in the process, the Wells team provided key design solutions to save time and money.
The new parking structure, constructed between the football field and the Concordia University Wisconsin property line, features over 700 parking spaces, a large built-in press box, outdoor seating for 800 spectators and a ramp that will allow the university to add an additional level of parking in the future.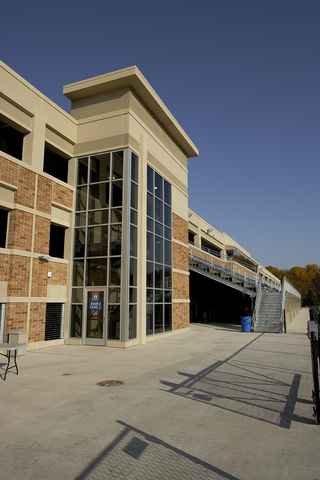 The biggest challenge for the construction of the new facility was an extremely aggressive timeline, with a desire to complete the entire project in under 18 months, to support this the Wells team manufactured panels off-site and worked six days a week in record breaking heat to erect the parking deck in just five weeks.
Ken Gaschk, senior vice president at Concordia University, was more than pleased with the performance of the Wells team. "The university has tight schedules. We have to take one building down and get the new building up and ready to go, quickly. Wells was able to accomplish this with ease," said Gaschk. "On top of all that, the new parking structure fits in well with the buildings we currently have on campus. It looks like it was planned to be here from the start. We're now looking at other buildings thinking how we can use precast to accomplish projects around the university."
The parking deck, which features a precast spiral staircase as well as a 90,000 pound precast sign panel, was completed on schedule and opened prior to the start of the fall semester.