The University of Minnesota's original Pioneer Hall was built in stages between 1928 and 1932, in the 1950's structures were added on and connected, and in the 1970s it was further renovated. Given the age of the original building it had outdated electrical and plumbing and did not meet modern accessibility codes, energy-efficiency or creature comforts.
Built in the Georgian Revival style, the hall's signature red brick exterior, slate roofs, central cupolas, terrazzo staircases, round-arched first-floor windows and doorway stone surrounds established historic integrity. Its two C-shaped wings framed landscaped courtyards surrounded by low brick and stone parapet walls that were accessed through round-arched passageways. These archways are now prominently featured in the new dining facility and on each of the study rooms.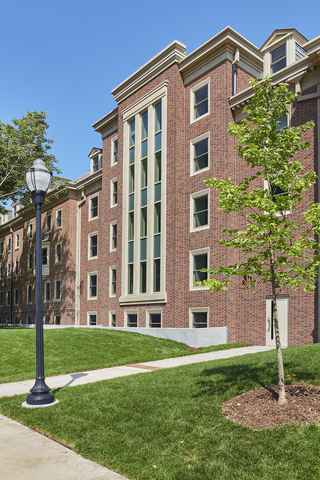 Early in the process it was decided the design would not try for complete imitation: the original had hand-laid Flemish-bond red-brick walls that included large ornate cornices with integral gutters, that were capped with a slate-clad hip roof featuring numerous small dormers. Designers developed a new set of details respecting the existing aesthetic, and recognizing what made the original building special; the unique spaces created by the dozens of dormers, along with the charm of the brick accented with protruding painted cornices. The team developed a design vocabulary for the building that embraced the versatility, efficiency and economy of insulated architectural precast concrete.
The unique window openings posed a challenge, using traditional framing materials, such as wood, would have been very time-consuming and costly as they would have to be replaced after every pour. To overcome this, a 3D printed mold was used to create this custom look, allowing for a great amount of detail in a durable, reusable material.
With the completed renovation, Pioneer Hall is now a picturesque, modern and desirable residence hall that is home to 756 first-year and returning residents, featuring unobstructed views to the Mississippi River.