Solutions at every stage of construction.
This significant multi-family development on the corner of 6th and Santa Fe, in Denver, CO, is a unique example of the immediate and long-term benefits of precast through every phase of the project. From a pandemic that paused development to a fire contained during construction, the real estate project reaped the benefits of Wells' building solutions. The resulting five-story total precast project is an attractive urban residential housing with a central courtyard, and fitness center and dog run amenities.
Developing a fast to market residential condo requires attention to detail and increased efficiency. At project origin the Wells design team utilized the design-build method to collaborate with engineers and architects and create a total precast structure that uses almost all of Wells' product lines.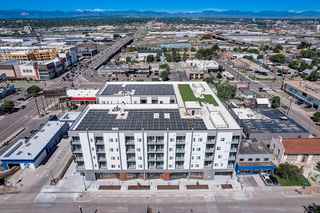 Pressing on amid a pandemic.
As development of the project began, the global pandemic brought most construction to a standstill. Fortunately, precast lent itself to this once in a century occurrence; while construction manpower decreased, Wells was able to continue manufacturing products offsite to meet key deadlines. Wells team members-built thousands of wall panels, beams and columns in a controlled manufacturing environment to later be erected at the site.
Simple Integration.
At the condominium's lowest level sits a parking garage integrated into the root of the structure. Many industry experts find building garages under a structure leads to design difficulties based on load bearing requirements. Wells found that managing the correct load criteria and building vertically reduced construction difficulties. The 104-unit parking structure was built efficiently with precast columns, double tees and spandrels; providing the residents of POP Denver a comfortable interior parking experience, without leaving the structure.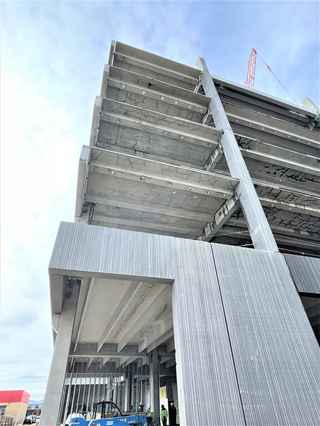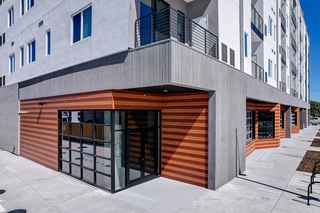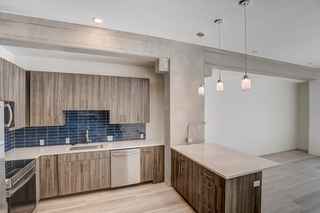 Avoiding a disaster.
As erection began, the construction team experienced a rare incident, a fire. The fire occurred when contracted welders were working above construction debris in the basement of the structure, while welding metal, the sparks set the foundation waterproofing on fire. Fortunately, the fire was contained quickly and isolated to a small area contained on three sides by precast.
The fire-resistant nature of precast concrete as a non-combustible material effectively stopped the fire from spreading; while the other adjacent materials burned, the concrete did not. If the fire started on a traditional stick frame building a catastrophic event could have occurred, halting, or even completely stopping construction and development. Because it was a precast concrete building, the structure only suffered smoke damage and construction resumed the following day.
Inventive Thinking.
Moving construction and erection forward was paramount. Finding equipment to continue building the residential condo in a packed urban environment required high-level thinking. Because the structure had zero lot line to the adjacent site, Wells had extremely limited space to manage concrete erection. Our erection team utilized a unique tool, a luffing tower crane to accommodate large holding capacity in narrow movements on the constrained site, placing heavy precast members throughout the structure.
The new development on 6th and Santa Fe is a beautiful yet resilient total precast structure, that will continue to provide a safe place to live in downtown Denver, CO, for years to come.
This project was featured in the PCI ASCENT Fall 2022 edition - read now.