Creating a community cornerstone.
Utilizing over 90,000 square feet of precast concrete, the City of Rochester, Minnesota repurposed a former financial facility into a community cornerstone. The newly renovated building, and 54,000 sq ft addition, are home to both the Rochester Police Department and the Development Services and Infrastructure Center.
This dynamic structure also features operational spaces that were previously unavailable due to limited space. The facility will house expanded office spaces, a crime processing room, temporary holding rooms, a vehicle evidence processing bay and a 48-stall police garage.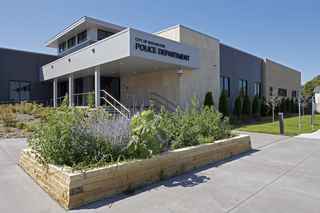 "Co-locating these departments under a single roof allows us to provide residents and developers with the one-stop development services experience they have been seeking,"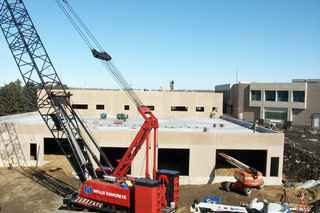 Connecting a building renovation and a new addition presented design and aesthetic challenges for the design team. Fortunately, precast allowed the design team to match an addition's exterior to that of a previously built structure. To create a flawless flow between the renovation and the addition, the beautiful exterior façade was created using a combination of finishes including polish, acid etch, sandblast, and old stone form liner.
Wells produced and erected the complete precast building structure and architectural envelop. This powerful structure utilizes beams, columns, hollowcore and wall panels. To provide a large open area for indoor parking, long span double tees were incorporate. Additionally, utilizing precast allowed the design team to retain earth in the basement level combating a sloping grade.
Wells building solution allowed the city of Rochester to create an economically sound community-oriented facility.
"It also positions us to work more collaboratively and intentionally to achieve our vision of becoming America's most innovative development services team," said Parrish.
This project was featured in the PCI ASCENT Winter 2023 edition - read now.