The sky is the limit.
With the desire to reimagine a space that is inclusive and collaborative, Ball Corporation constructed a new headquarters building, as well a refresh and expansion of its Packaging Office Center (POC), on its existing campus in Westminster, Colorado.
The new campus creates a flexible and cooperative work environment between the new four-story building, POC, Ball Technology and Innovation Center (BTIC) and Aerospace Manufacturing Center (AMC). This sprawling community landmark features a variety of work spaces, including exterior gathering spaces and walkways, making it a truly inspiring place of work.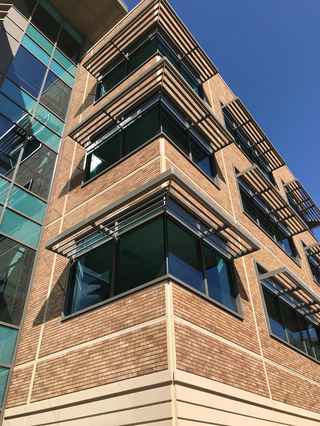 A need for additional space to grow and collaborate.
Together, the new corporate building and POC has approximately 186,000 square feet of office space that will encourage team members to collaborate and brainstorm ideas to deliberately plan for company and community success - a win for everyone.
Inside the buildings, there will be a new cafeteria, auditorium, board room, offices, conference rooms, fitness center and other amenities. The buildings offer improved technology integration throughout for enhanced user experience.
Ball Corporation supplies innovative, sustainable packaging solutions for beverage, personal care and household products customers, as well as aerospace and other technologies and services primarily for the U.S. government.
Strength and beauty for the future.
Wells manufactured and installed more than 20,000 sq. ft. of precast for the expansion. The exterior façade includes nearly 122 pieces of architectural cladding panels with a thin brick finish. Combined, both structural and architectural precast was utilized to assist in bringing this new landmark to life.