Growth through innovation.
Mullins Cheese is rooted in tradition, and has grown through innovation throughout the past 50 years. Dedicated to sustainability, Mullins newest building addition allows them to pave a path to future prosperity and remain a vital part of the success of Wisconsin, delivering products the entire community can take pride in.
The new addition spans two plants in Knowlton and Marshfield, further expanding the company's growth while remaining conscious of their environmental impact. Altogether, it processes seven million pounds of milk at the facility in Knowlton, creating just a few of the everyone's favorite cheeses.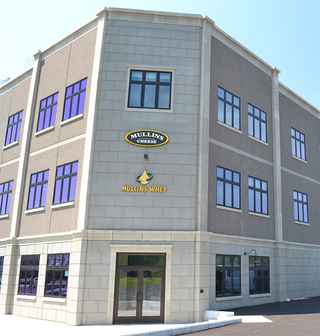 Design coordination.
Precast installation began in July, 2015 and the field services crew stayed on schedule, sometimes working beyond a normal workweek to complete the job. Included in the precast construction were 1,213 concrete pieces – beams, columns, solid flat slabs, insulated wall panels – that were hauled to the job site and installed.
Although the project was no more challenging for the field crew than any other project, certain obstacles needed to be overcome, including sequencing the product with the dryer equipment schedule to avoid additional mobilization costs.
There were also multiple rigging scenarios for both the stainless steel and precast in coordinating around tanks and equipment. In addition, crews installed precast up to 100 ft. (30.5 m) in the air during winter weather conditions. Each level of the structure required crews to leave panels out for access, which were installed later.