Community investment.
Transforming a vacant 33,000 sq ft lot to a brilliant, mid-rise, affordable housing development, required a team of experts, thoughtful planning and a community investment. The Interfaith Housing Development Corporation (IHDC) purchased the lot from the Village of Maywood, Illinois, to build an apartment complex to support families that are substantially below the area medium income, homeless veterans or residents with disabilities. The project was on a fast-tracked schedule to relieve pressure on the local homeless shelters.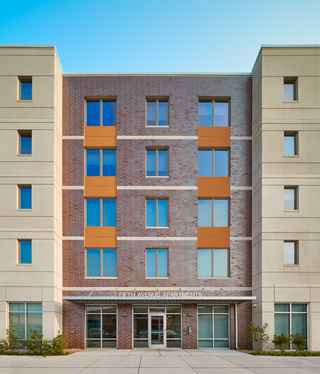 After two years of planning and offsite development, the attractive, five-story, prefabricated building was assembled in 35 days to accommodate the immediate housing needs. The use of precast supported this fast-paced build and occupancy timeline. Wells manufactured and erected interior and exterior architectural wall panels embellished with thin brick, form liner and a limestone sandblast finish. The insulated panels not only offer a sustainable building solution, but also provide longer-term durability than cast in place concrete.
The final complex features 72 units ranging from studios to three-bedroom residential units, a 5,500 sq ft designated retail space, and extensive shared community space, quickly becoming fully occupied.