Rapidly growing American-based cable and satellite television company Starz Entertainment chose to relocate their headquarters to a new Olmstead Park-inspired campus located in Englewood, CO. Complementing the main office development on the site constructed of costly Texas granite, the Starz office and uplink facility was constructed with precast concrete mimicking the granite as a less-expensive option. Working with the architect, Wells (formerly Rocky Mountain Prestress) was able to demonstrate to the owner that a custom precast concrete mix would effectively simulate the granite cladding and was brought in as the prefabricated concrete manufacturer.
Adjacent to the office development is a four-level total precast parking garage that was constructed concurrently with the headquarters and matches the office building. The lower level of the building features simulated split faced granite stones; Wells produced over 400 handmade custom rubber formliners to emulate the texture, which gives the design of the office a historically accurate composition with the simulated flat-cut stone on the upper levels. All vertical joints on the facade were concealed with precast concrete soaps to replicate a mason's joinery, which was a very creative and innovative solution that is still uncommon to this day.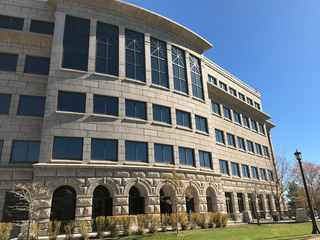 The neoclassical design of the total-precast building features Doric columns, entablatures, and a monumental five-story rotunda linking the two wings of the structure. Curved radius panels that top the rotunda were challenging to manufacture and erect. Load-bearing perimeter walls, some weight nearly 70,000 lbs each, include three foot cantilevered cornices that line the upper floors of the building, emphasizing the neoclassical theme and demonstrating that prefabricated concrete can be applied to any building type or design. Overall, the Starz headquarters exudes confidence, stability and permanence – a symbol of corporate America that stands the test of time.