John R. Moses, a World War II veteran, was instrumental in creating a dedicated facility for fellow veterans to call home in King, WI. A new addition for the State of Wisconsin and Veteran's Administration run John R. Moses Skilled Nursing Facility provides ample space as well as the latest technology and care available.
Precast was selected for this project due to its unique design requirements and demanding construction schedule. Wells was a proud partner in producing and delivering more than 173,000 sq ft of precast building solutions to this 257,000 sq ft facility.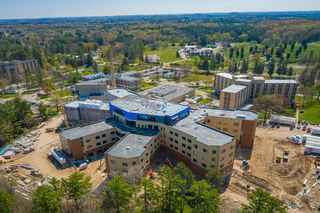 Wells was integral in setting the groundwork for schedule success due to the amount of precast in the project.
The new facility located on a lake houses 192 beds within 16 households, optimizing resident views. To support this design, required a unique and intricate structure, with six spokes extending off one main hub center. Each spoke consists of three- and four-story wings with each requiring custom precast decks. To provide a safe and sound enclosure, the roofing design of each spoke consists of precast hollowcore as well.
To ensure all project team members understood every step of the process, the team created a 3D Revit model. This provided a view of the entire structure, detailing how the precast elements work together as well as the intricate installation process. Before any onsite construction took place, the entire design build team reviewed and collaborated, utilizing the 3D model to prevent any unforeseen surprises that could be encountered in the field.
The final design solution is a thoughtful tribute to the veterans, providing a picturesque setting to age in place.