The Lunda Community Center is more than just a community center, the 113,000 sq ft facility houses the School District Field House, Senior Center and the Boys and Girls Club, benefiting many different aspects of the community. The facility includes a basketball, racquetball, volleyball and gym available for the school district and a community pool area, fitness center, and meeting/activities area creating a unique facility that is unlike any other community center in Western Wisconsin.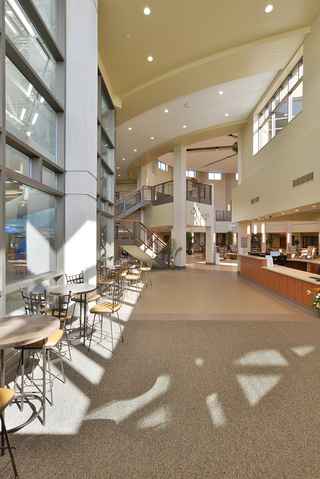 Wells provided architectural wall panels, structural beams, columns and plank products. The wall panels had multiple design finishes and pigments. A custom design featuring a brick inlay finish combined with an acid etched finish created a truly one-of-a-kind finish. The wall panels used throughout the building are load bearing and are R-18 insulated. The rotunda contains architectural and structural precast elements including 4-sided architectural finishes and curved panels.
This project was constructed during the winter months and while crews were faced winter weather conditions, precast allowed for the aggressive construction schedule to be met despite the unpredictable northern Wisconsin weather.
This facility provides a gathering place for the entire community; by producing it with precast, it is low maintenance with a longevity that exceeds other building materials. Precast is also weather, pest, and fire resistant and provides a safe and worry-free environment for the community and owners. Wells is proud to be a part of this community project that resulted in a unique and multi-functional facility for use by everyone for years to come.