The Madison Yards mixed-use development is situated in the heart of Madison, WI. Developed by Summit Smith, this ambitious project aims to create a dynamic and inviting community that appeals to individuals, families and urban enthusiasts of all ages. At the core of the development are two distinct parking decks on Block 1 and 2 that play a vital role in providing essential parking solutions while contributing to the overall architectural and functional aspects of Madison Yards.
The Block 1 parking deck is strategically positioned adjacent to the Hill Farms parking deck, standing as a multi-level parking facility. It distinguishes itself with its unique design, featuring solid walls on two adjacent sides that serve to demarcate the parking area from the apartments. This design departure from the traditional Texas wrap parking structure gives Block 1 a distinctive character.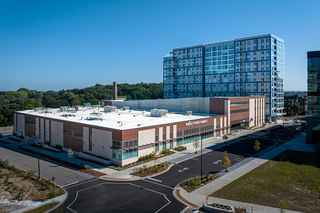 The Block 2 parking deck is closely integrated with a grocery store. Its structural innovation lies in the utilization of double tees over the loading dock, optimizing space and functionality. Notably, the Block 2 parking deck accommodates delivery truck docks beneath, streamlining the operations of the connected grocery store. Architecturally, this parking deck is designed to make a statement. It includes a speed ramp and showcases its aesthetic features predominantly on the north side, facing University Avenue. On the south side, it seamlessly blends into the Madison Yards area. Furthermore, the parking deck features a bridge-like link connecting it to the residential components, spanning two floors and gracefully passing over the speed ramp entrance. Architectural finishing materials include painted concrete and buff-colored concrete that replicates the appearance of stone, achieved through formliner finish techniques, which extend into the adjacent grocery store.
Both parking decks are constructed using total prefabricated solutions, encompassing double tees, columns, spandrels and walls. This innovative approach not only expedites the construction process but also enhances structural integrity, ensuring long-term durability and sustainability.
The Madison Yards Parking Decks offer advantages that extend beyond mere parking solutions. They are integral to the functionality and convenience of Madison Yards, supporting the development's vision of a vibrant mixed-use community. These parking facilities ensure a seamless experience for residents, shoppers, and visitors. These parking decks stand as integral components of a thriving urban community — embodying innovation, durability and aesthetic appeal — and help craft Madison Yards into a vibrant and inviting destination in Madison.