Nordic Ware started from humble beginnings in 1946 when a Minnesotan couple began producing a few specialty Scandinavian cookware products. Seventy-five years later, the company has grown to manufacture hundreds of high-quality bakeware and cookware products, including the original Bundt® pan known worldwide.
To better serve their international customer base, Wells' prefabricated building solutions were used for a 21,000 sq ft two-story expansion to their manufacturing and warehousing facility that includes a new loading dock. The total precast expansion, is constructed with Hollowcore plank for the floors and ceilings and architectural insulated and structural solid panels for the walls. Wells coordinated the design around the owner's three-ton bridge crane rail system that ran the length of the facility, the final engineering solution was to have it supported by haunches that were put on the columns and walls surrounding the crane.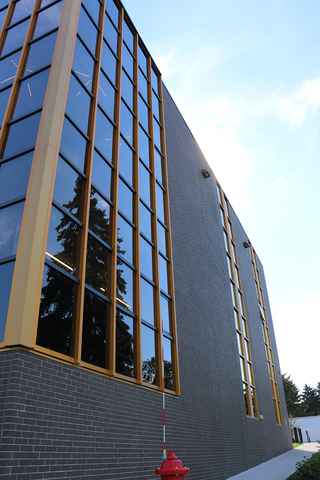 Since Nordic Ware had a pre-existing manufacturing plant on site, Wells had to find a solution to attach the expansion to the existing building without disrupting its foundation. To accomplish this, Wells cantilevered the Hollowcore plank to the original building and framed the rest of the new building away from the existing walls – keeping the existing foundation undisturbed and strong. The wall panels also match the brick of the original building, accomplished by using a formliner with a red-toned thin brick exterior on the architectural panels.
The job site was within a tight footprint that made the expansion construction challenging in a variety of ways. The solution was to have the Wells' field team crane sit inside the building for most of the project until the roof was constructed. This kept the job site clean with minimal disturbance to the surrounding urban area, also allowing the small shop Nordic Ware has on site to remain open to the public the entire time. The prefabricated pieces that make up the new expansion were trucked onto the site only when needed, removing the need for a staging area and allowing the site to remain uncluttered. The erection took less than three weeks, allowing other trades to get to work faster. Because of the overall durability of precast concrete, Nordic Ware is now able to focus on what they do best – creating iconic bakeware for households across the world.