The Pritzlaff Parking Structure is the perfect combination of historic appreciation and 21st century needs, and our team was proud to be a part in paving the way to its success. In the heart of Milwaukee, WI, the Pritzlaff Parking Structure stands tall and proud providing nearly 300 spaces, with a multi-use rooftop level to accommodate event space.
Keeping Milwaukee's heritage and unique character in mind, our team developed a precast architectural facade to compliment a well-known Milwaukee Cream City brick landmark that dates back to the 19th century. Unique to the Pritzlaff Structure – the original building was developed with the cream-colored bricks. It was vital to the owner, Sunset Investors, that the design respect the past with modern function. Through pre-design testing, our team was able to create a finish that complements the historic roots.
Utilizing an open concept Wells precast building solution, all 5-stories of the Pritzlaff Parking Structure are maximized for safety, security and durability, while also benefiting project cost and speed of construction. By creating long open spans it avoids underground gas and electrical lines, avoiding future infrastructure issues.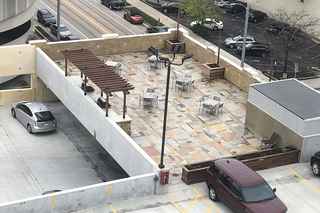 Top to bottom, side to side – Wells precast was installed to be the main support system of this parking deck. With the application of wall panels, beams, columns and spandrels, our team executed a successful and effective construction method. Within just 20 days, our team was able to successfully transport and erect the extensive amount of precast on the jobsite.
The integration of the structural and architectural elements of Wells precast assisted in bringing the city a safe place for guests to park, while keeping in mind the historic preservation of the structure. One of the Cream City's well-known landmarks will continue to hold its legacy and provide a sense of safety for each person utilizing it.