SICK, a global designer and manufacturer of sensors and sensor solutions for industrial applications, sought to expand and consolidate their North American operations into one 550,000 sq ft campus in Bloomington, MN, not far from their smaller existing headquarters. Due to the size of the updated campus, the $100 million building will be constructed in four phases over the next 15 years until the campus is complete with office space, production and manufacturing, warehousing, parking ramps, and even space for projected future expansion needs.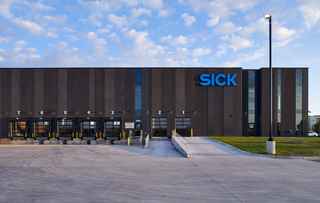 Phase one of the project consisted of the construction of a new 138,000 sq ft office area and facility for sensor production and logistics, increasing manufacturing space by 40%. The exterior siding of the structure features load-bearing architectural precast walls spanning nearly 40 feet tall. The charcoal-colored monolithic design utilizes six different patterns with a variety of polished concrete, sandblast, and acid etch finishes, randomly placed in different locations around the building. Complemented by large reaching windows, the final result of the multi-patterned finish disguises the concrete's joints and provides a stunning and unique exterior.
Because of the architectural wall panels' load bearing capabilities, there is no frame required to place behind the walls. This provided SICK a cost-effective solution to their building needs, while keeping the large multi-phase development on schedule. This project still has an exciting future ahead of it, and Wells is continuing to provide building solutions to help the company as the campus development continues.