In the ever-evolving education landscape, creating dynamic spaces where students and communities can thrive is paramount. The heart of the St. Croix Falls High School project was the construction of a substantial auditorium and fitness center. These facilities were developed as modern amenities for education and community use. The auditorium was designed with attention to detail and to support experiences; featuring a spacious lobby area, costume facilities, backstage rooms and other amenities, creating a state-of-the-art performance space.
This project not only expanded the school's capabilities but also showcased the ingenuity of prefabrication. Insulated wall panels boasting a thin brick finish, along with sandblast and water wash features, were used to give the building a unique aesthetic – all while providing load-bearing capabilities. An artistic flourish in the project was the 16 ft wide school logo, expertly cast into two separate panels and combined to form a full logo. This added a personalized touch to the structure and was achieved through custom-made cast-in molding. Near the back of the building where the auditorium stage is, the panels reach an impressive 53 ft in height, supporting architectural and functional design.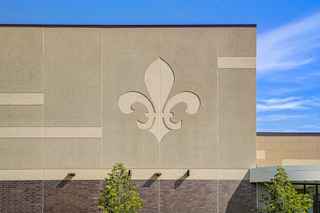 Wells was involved early in the process, collaborating with the project team. The design-assist approach ensured seamless integration of Wells building solutions for the school in the most efficient way possible. Meeting the project's tight timeline was imperative, particularly to coincide with the start of the school year. Prefabrication played a pivotal role in expediting construction, ensuring the project was completed on schedule.
Through the strategic use of prefabrication and design assistance, this project not only met its objectives but exceeded expectations. It serves as a shining example of how architectural excellence and functionality can merge to elevate educational spaces.