Multifamily Design and Construction: How Prefabricated Building Systems are Meeting the Challenge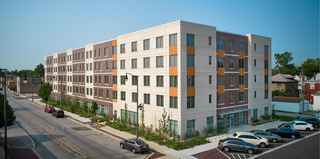 Given the variety of multi-family developer designs, visions and budgets, there's likely a prefabricated solution that meets the need. Becoming increasingly popular for multi-family building development, prefabricated building solutions are accelerating construction schedules, maximizing return on investment and providing an amenity mix that supports individual market demand.
Forming a Development Partnership
Since multifamily projects can take a variety of routes, the prefabricator gets involved at project onset, asking questions early in a project's design to understand — number of floors, project budget, the owner's design vision— to gain a better understanding. And as developers become increasingly aware of the benefits of prefabricated building solutions, it creates a partnership in the process, enabling a tailored approach to meet their specific goals and needs.
Keep reading to learn about the variety of prefabricated designs solutions for multi-family that Wells has years of expertise building:
Total Precast
Developers that intend to keep a building in their portfolio for the long-term are increasingly selecting a total prefabricated (aka total precast) solution, as they desire a structure with minimal long-term costs. By leveraging the architectural and structural benefits of prefabrication, this system provides developers with a more durable structure with lower lifecycle costs, minimal sound transmission, enhanced energy efficiency and occupant comfort (through insulated panels) and higher sustainability ratings.
Additional benefits of using a totally prefabricated building design include:
When exterior architectural perimeter walls are also made load bearing, it performs double duty, eliminating perimeter beam and column framing needs.
By using prestressing manufacturing techniques, it allows for longer span double tees, reducing columns and beams within structures.
This off-site manufacturing also expedites construction speed as much as 40 to 50% faster than other conventional building systems.
Excellent fire resistance, reducing the need for added fire walls or field applied fire proofing, ultimately saving the developer money.
When using a total precast system, the prefabricator essentially becomes a "one-stop-shop" for the project team. With preconstruction and engineering collaboration, they provide building design options that can mimic a variety of other construction materials using form liners, inlays, stains or pigments, effectively shifting much of the construction and trade work off-site. The wall panel design can also integrate recesses and protrusions to achieve virtually any desired aesthetic, and important for multi-family design, even incorporate MEP penetrations prior to a panel's arrival at the site.
Architectural Cladding and Unitized Building Envelope Systems
For multi-family developments looking to stand out, architectural cladding is also gaining ground. It is a durable building solution that can incorporate a variety of architectural features such as ledges, balconies and more. Leveraging advancements in manufacturing, prefabricators can even include windows, insulation and dry wall ready accessories within the panel off-site, expediting the construction schedule and bringing in other trades faster.
With the expansive variety of finish options and colors – it can emulate any community's aesthetics requirements while also acting as a structural element or an architectural facade. And with busy and congested urban developments with mid- to high-rise multifamily structures, it allows easy erection of the facade panels, further streamlining construction.
Texas Wraps
Texas Wraps are nothing new to the multifamily market, but they have become increasingly popular over the last decade. In essence, the prefabricated parking deck is constructed first, followed by the construction, or "wrapping," of the multifamily units around it.
The tenants reap the benefits, as a wrap provides them with safety, privacy and convenience with the enclosed parking deck protected from weather – they simply walk out of their homes into the corridor, then into the parking garage. It also offers amazing sound-dampening qualities. With a super-thick perimeter wall – a minimum of 9 inches – typically with a corridor between the parking area and living units, it eliminates sound transmission.
For the developer and project team, speed of construction is another big plus. With the prefabricated components manufactured off-site while the site is prepared, the deck goes up quickly expediting construction of the remaining building systems.
Finally, the availability of wide Double-T sections for the driving surface – up to 16 feet in some cases – is also contributing to its popularity, creating additional cost efficiencies by minimizing the number of prefabricated components required during construction.
Podiums
One to three level prefabricated podiums are another mainstay in the multifamily market. They're a popular design approach, as they help minimize a building's footprint while also supporting the development of a taller structure. And at the amenity level (top) of the podium, it provides the structural support for designers to incorporate pools, ball courts and greens spaces, among other things.
Technology and product enhancements are making it all possible. To accommodate amenity level live loads reaching up to 250 pounds per sq ft, prefabricators can now produce 48-inch-deep Double-T sections that span greater distances without the need for additional columns and beams.
What's more, prefabricated systems are inherently fire-resistant, enabling developers to easily achieve fire codes in any municipality, county or state. And similar to wraps, they are quickly erected before construction of the apartments or condos begins, minimizing the number of trades on site.
Providing Choice and Control in Multi-Family Design
With the variety of applications, it is not hard to see how utilizing prefabricated building solutions is providing design teams and developers more choice and control. Providing a highly durable and cost-effective and visually appealing solution, while also offering a blend of solutions for multi-family building developments.