Silver Ranch Elementary, located in Bismarck, ND, is a project that serves as a response to the growing student population in the Bismarck Public School District. The district has been experiencing increased enrollment, necessitating the construction of new schools and additions.
Architectural insulated walls were used as the building envelope for the 70,000 sq ft school. These wall panels were a combination of form finish brown blocks at the base with a barn wood formliner on top, which ran vertically and were poured in gray, with field staining by Nawkaw for a realistic wood aesthetic.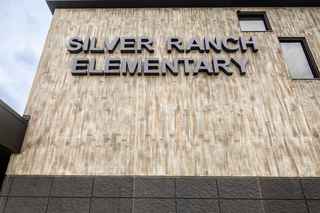 The advantages of using prefabrication in this project were multifaceted. It offered consistency with previous schools in the region, aligning with the preferences of architects and engineers familiar with precast construction. Additionally, prefabrication accelerated the project's timeline, allowing for a quicker turnaround and the opportunity to enclose the buildings swiftly, enabling interior work to proceed even in the challenging winter months.
The project faced the challenge of simultaneously constructing two schools, the other being Elk Ridge Elementary, which required coordinating the supply and installation of materials for both facilities. Both schools serve as critical additions to the Bismarck Public School District, accommodating the growing student population in the region and contributing to the development of a family-friendly community with modern educational facilities.