Benefits Of Precast Parking Structures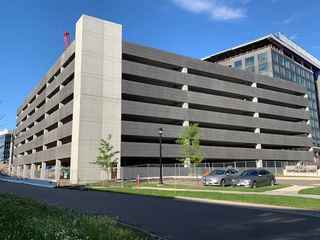 Call it a ramp, a deck or a parking garage, most of us have used them at some point, possibly every day. How and when is the idea of a precast parking structure born? Early and with efficiency in mind, that's how. Everyone on the team is tasked with developing the most efficient structures while paying close attention to cost, durability, functionality, and ultimately budget, schedule and site logistics. 
When properly coordinated and implemented, a well-designed parking structure offers many options:
Design Versatility

Formliners, reveals, colored concrete, textures and graphics, all add unique character to any parking garage. Precast also offers the flexibility to combine different structural building elements - glass, steel, CIP, timber framing with striking results. Let your imagination lead the way.
Coordinating and casting into the precast, the necessary mechanical block-outs and electrical raceways often resulting in a more efficient and cleaner installation.



Code Compliance

Easily provides fire rated enclosures, whether an egress path in a parking structure or area separation requirement on multi-structure projects that ties into the garage.
Precast piece uniformity and flexibility, satisfying guardrail requirements both in the final condition as well as during construction.



Construction Site Considerations

One of the first building trades to start and complete their scope of work on the project, the precast erection is typically very swift. Always appreciated by the construction team, watching the last piece of precast being set is a huge step and a major milestone on anyone's schedule. Allowing the General Contractor and other subsequent building trades access to the garage sooner, cutting time from the schedule.
Precast stairs provide immediate access and egress on and off the structure, ensuring safety for all and saving rental costs during construction.
Site logistics are often improved when the General Contractor has additional space to accommodate workers, visitors, and potentially tenant build out storage as well. Especially useful when the garage is the first construction completed on a multiple building / phased project.
Precast erection also typically recovers much faster from weather impacts, as the necessary temporary considerations are minimal compared to other structural elements.
Whether stand-alone or the first step in a larger project, choosing precast for a parking structure can help your project get moving faster.