Comprehensive maintenance services.
Wells sealants and restoration team provided multiple services on Milwaukee's newest luxury residential tower, 333 North Water Street. The services offered a comprehensive approach to protect and enhance the structural integrity of the tower. This included blind-side waterproofing, traffic and pedestrian coatings and an air barrier application.
Blind-side waterproofing protects areas of the building where exterior access is limited. It effectively prevents water infiltration, reducing the risk of damage and deterioration to crucial building components. Also, by preventing moisture from penetrating the building envelope, blind-side waterproofing also helps to reduce the risk of mold and mildew growth. This, in turn, leads to better indoor air quality and a healthier living or working environment.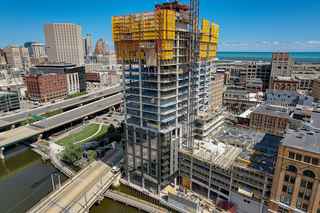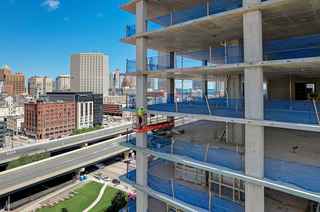 A traffic coating was applied on all driving surfaces of the adjacent parking deck that is included in the development. The traffic coating is a clear waterproofing sealer that penetrates the concrete surface. The coat protects from water, salt and other environmental factors. A pedestrian coating was also used on all exterior balconies on the building to avoid premature degradation of exterior walking surfaces.
An air barrier was applied on the slab edge of each floor, and Wells utilized an interior access strategy to apply it. One of the primary benefits of an air barrier is its ability to reduce the infiltration of outside air and the escape of conditioned indoor air. This results in a more airtight building envelope, which, in turn, leads to lower energy consumption for heating and cooling. Improved energy efficiency can result in reduced utility costs and a smaller carbon footprint. Additionally, the reduction of air and moisture infiltration means less wear and tear on building materials. Air barriers can help extend the lifespan of structural components by preventing corrosion, rot and other forms of degradation.
With Wells, comprehensive sealants services were provided by a single source, reducing risk for the general contractor and simplifying construction. All services provided ensure the structure will last for generations, with less future maintenance and less costly repairs.
333 North Water Street, located on Milwaukee's River Walk, is a new 31-story luxury residential tower. Featuring 333 units, it stands as the sole high-rise multifamily project nestled within the Historic Third Ward, a vibrant and culturally rich neighborhood. This iconic tower is situated amidst a backdrop of high-end retail, a thriving culinary and entertainment scene, and the renowned Milwaukee Public Market, making it a sought-after address for those seeking a blend of upscale living and urban convenience.
In addition to its striking residential units, the development also boasts 9,800 square feet of prime retail space, further enhancing the dynamic character of the area. The project thoughtfully integrates both interior and exterior amenity spaces, providing residents with a luxurious living experience. Additionally, a seven-story parking garage, offering 375 parking stalls, is seamlessly incorporated into the design, ensuring residents have easy access to convenient and secure parking facilities.
For clients seeking the utmost in quality, convenience, and urban living, 333 North Water Street sets a remarkable standard for luxury high-rise living in Milwaukee.